OrderMyGear makes updating your invoice banking info as easy as possible! Account owners or accountants can quickly add a new payment method or select their account's default payment method.

Pro Tip: Are you the owner or accountant for your business, but not able to access the payment method information detailed below? Are you trying to update the bank account to which your deposits are sent? Email us at support@ordermygear.com and one of our Support Team members will be happy to help!
Adding a new payment method
Hover over the gear icon in the upper right-hand corner of the OMG site, then click Dealer settings.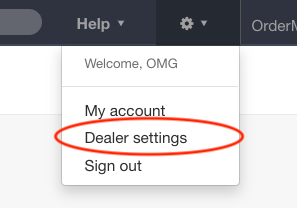 Click on the Billing section.
Click Add Payment Method in the upper right corner.

Select whether the payment type is a bank account or credit card.

Type in the new payment method information.

Click Save in the upper right corner.

Changing the default payment method
The current default payment method will be indicated by the

icon. The default payment method can be easily switched to another account on file.
Click the Make Default button located to the right of the desired account.



The new default account will be indicated by the icon.

This newly selected payment method will be charged if any products or services requiring payment are utilized.
Deleting a payment method
A payment method can also be deleted by clicking the X button to the right of the account.



Making sure your invoice bank account info is up-to-date ensures that your account continues to run smoothly and fees are taken care of right away.