The all stores page includes the number of orders collected in stores as well as the sale volume for that store. You'll also be able to search for stores based on the store name, sale code, or work order number.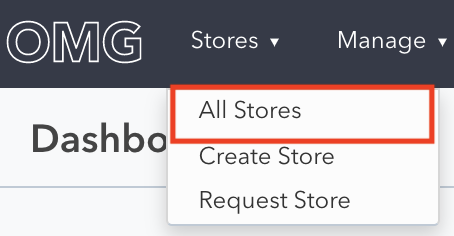 The default view on the all store's page will include all stores and all sales reps. You can click the "Archived Stores" toggle to switch the view to show any stores that have been archived. Additionally, you can click on "Creation Date", "Open Date", or "Close Date" to sort all stores based on the selection.

When you select "Open Filters" you'll be able to filter stores by:
Sales Representative assigned to the store.

Store Status (Opened, Closed, Scheduled).

Stores that closed within the previous 7 days, 14 days, 21 days, or 30 days.
Filters are persistent, allowing you to navigate away from the page and maintain the filters when you return to the All Stores page. To clear out the filters that you selected, you can click "Clear All" to the right of the filter.

Click on the "Store Name" to pull up the store overview where you can edit the store and view reports. Or, click the green "Store Preview" box to open up and preview the storefront as customers see it.

Note: Inbound Stores can be found under the Catalogs tab.
Mobile View: If you're viewing the all stores page from a mobile device you'll see the same functions as you would on your desktop. You can then scroll vertically to see more stores and horizontally to scroll through the store information.