Do you want to personalize your store by adding the logo of the organization to your store? Our software allows you to add a secondary logo to your store! The Secondary Logo will appear on the right side of the store name. It's a great place to feature the organization's logo!

Step 1: Locate the store you want to add the Secondary Logo then click on "Edit Store".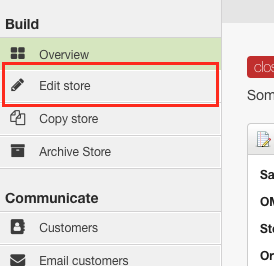 Step 2: Click on the "Store Design" tab.
Step 3: On the left-hand side of the page, click on "Branding" and the Secondary Logo appears right after the Primary Logo option. Click on the "Upload" link or drag the photo to that designated area to upload a Secondary Logo.

Step 4: Once you've uploaded an image, it should automatically appear in the designated location of the secondary logo in the store.
Step 5: You must click the green "Save Changes" button to save the logo to your store.

Step 6: Here is what the new logo looks like on the storefront. It will show up on the right side of the store name.

Note: This is the format when you choose the "No Banner" Header type. If you choose the "Banner with Overlay" type, the secondary logo is placed at the top of the Store Name.
Step 7: If you want to remove this logo to switch it to a different one or remove the logo, you must click the exit button in the Secondary Logo section. If you want to change it to a different image, you can upload another image by following the steps indicated above. Don't forget to click the "Save Changes" button to remove the logo!

Do you want to change the dealer logo at the top left of your store? Click here to learn how to change the primary logo for your store.