Tired of having to check multiple supplier websites and B2B accounts to see if items are in stock? With Live Inventory, you can see real-time inventory levels from top suppliers and brands directly from the OMG admin while you're building stores. See a list of our Live Inventory suppliers and brand partners in the Frequently Asked Questions section below. Click here to jump to FAQs!
Note: This feature and article will be updated consistently as we improve this feature with your feedback. Be sure to regularly check back, as things might be a little different the next time you login!
There is a Frequently Ask Questions (FAQ) at the bottom of the article. Click here to jump to that!
Go to the Products tab on your store.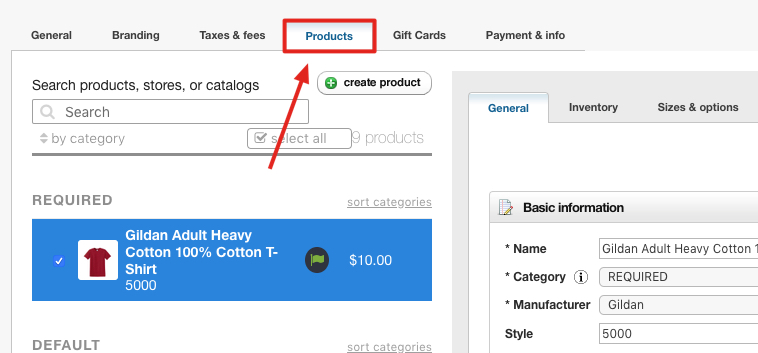 Search for a product.

You will see a new Check Inventory button on all products that are Live Inventory enabled.
Click the Check Inventory button to see that product's inventory.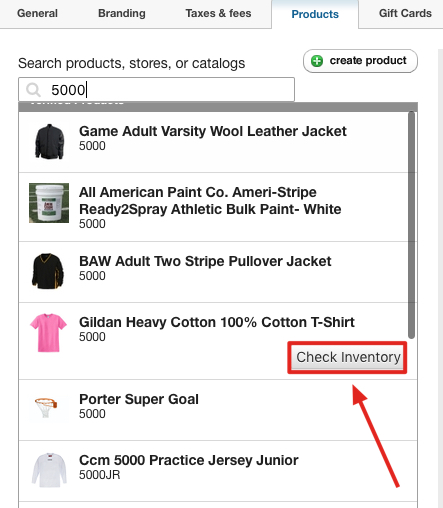 For SanMar products only, there is an Inventory Depot option to select a specific SanMar warehouse. By default, the inventory numbers are combined from all warehouses.
Click the Select Locations dropdown menu to see inventory numbers from a specific SanMar warehouse.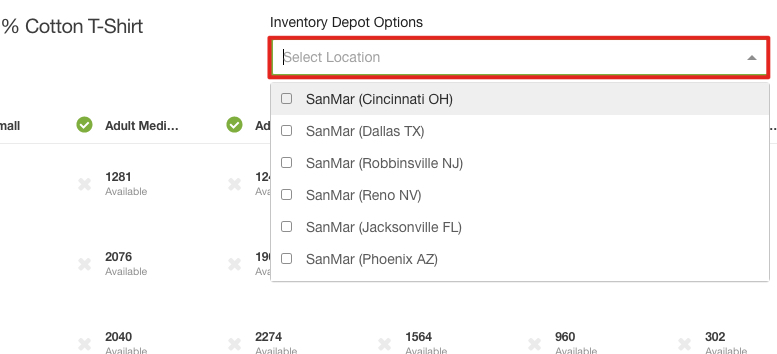 For non-SanMar products, there will be no Inventory Depot Options on the screen.

When you open the Live Inventory screen, all the sizes (shown at the top) will default to being selected.

Click on the circle next to the product image to select that color.

You cannot turn on or off a specific combination of size & color. For example, in the picture below, you cannot turn off just the Men's X-Small Black (003) option. In general, you will need to offer all of one size or all of one color — just as our software allowed before.

Pro Tip: In this situation, you can turn off all Men's X-Smalls because there are 0 available for both Black 001 and Black 003.
Once you've finished selecting your sizes and colors, click the green Add Product button to add these to your store.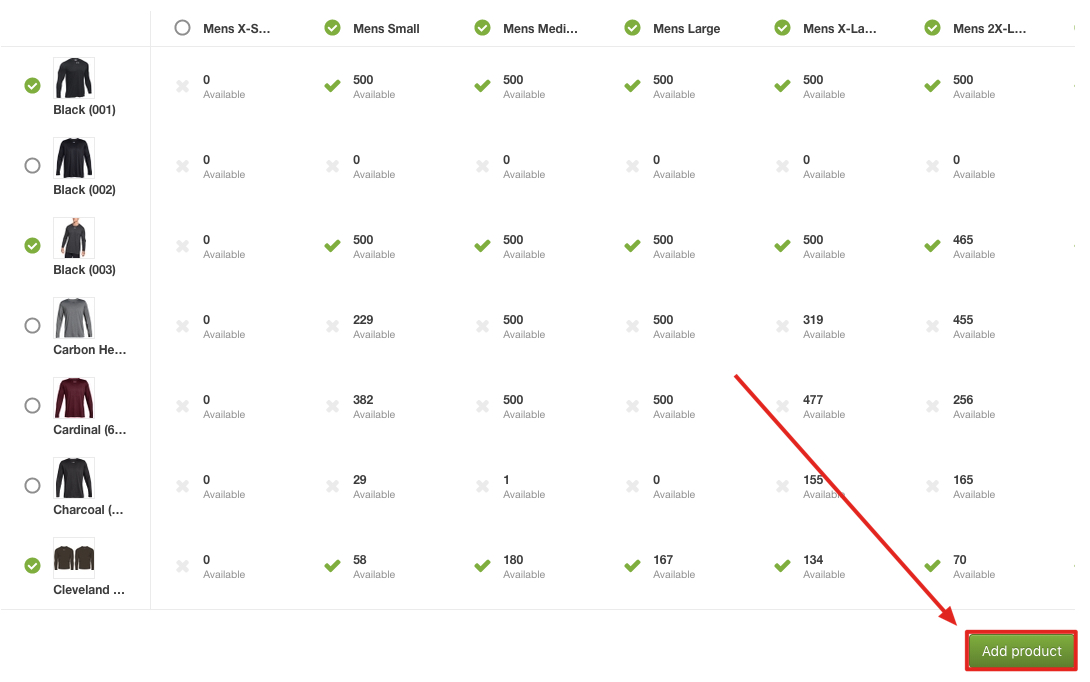 A new product will be added to your store with the sizes and colors you've selected enabled.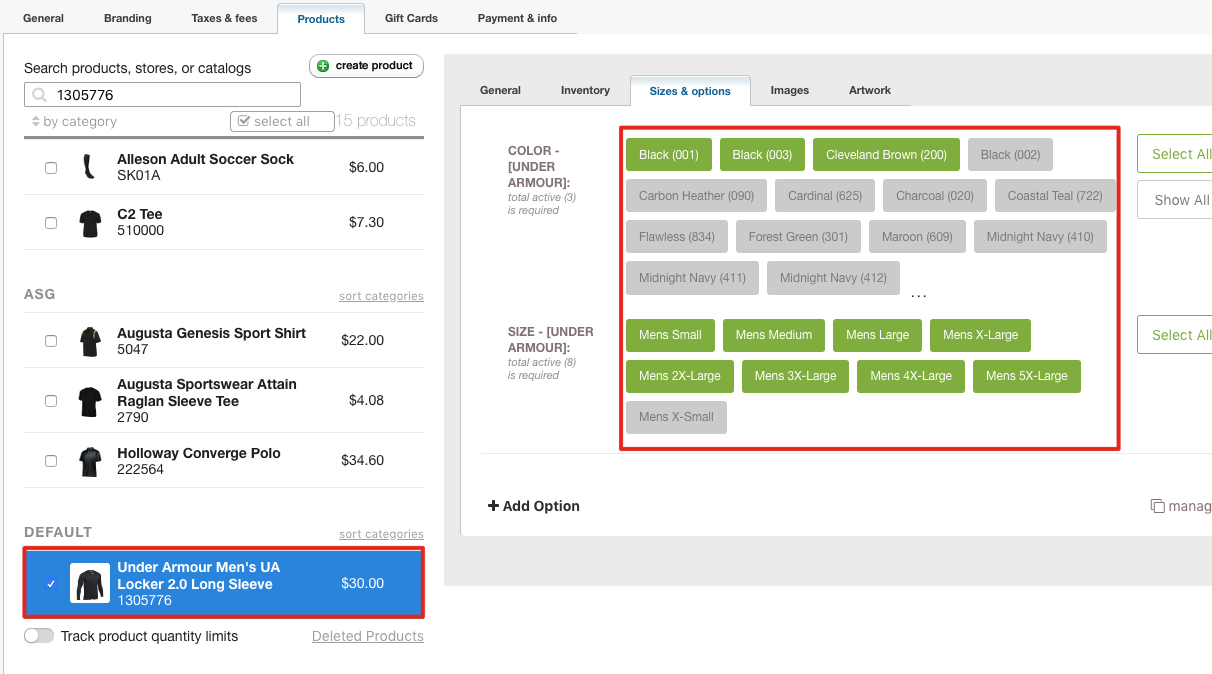 You can check the inventory levels of any eligible product by clicking on the Inventory tab of the product.

You can turn off sizes and colors on this screen just like before. You may need to scroll to see all the color and size options.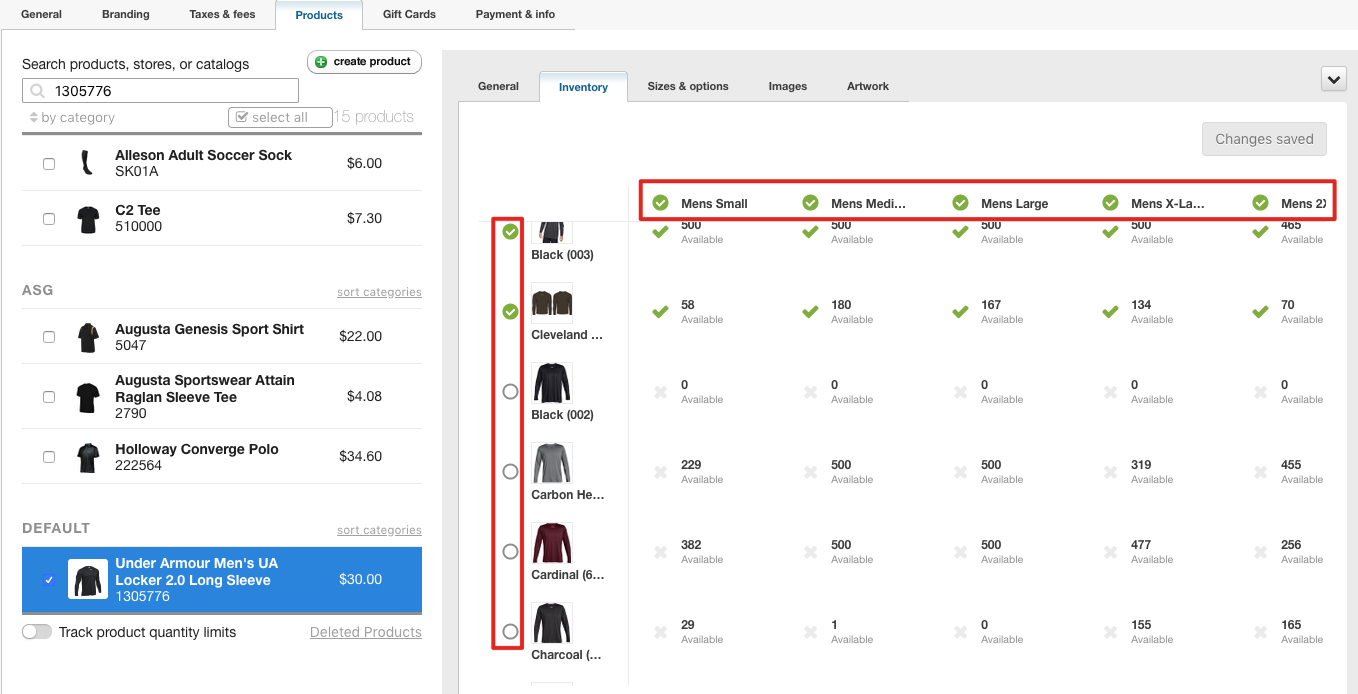 Frequently Ask Questions:
Q: What Suppliers/Brands does Live Inventory support?
AAA Innovations
A4
adidas
AlphaBroder
Augusta Sportswear
Blue Generation
Champro
Charles River Apparel
Cutter & Buck
Edwards Garment
Founder Sport Group
Garyline
Gemline
Gold Bond

Hirsch Gift

Hit Promotional Products
Imagen Brands: Crown and Vitronic
Innovation Line

Logomark

The Magnet Group
Mizuno
PCNA
Peerless
Raining Rose
SanMar
SnugZ
St. Regis Group
Starline
Storm Creek
Sweda
Under Armour
Vantage Apparel
Visions Awards
Q: What happens after inventory hits zero?
A: Currently, nothing will happen. The Live Inventory feature is informational only at the moment. You will need to monitor the inventory of the products yourself as the store progresses.
Q: What if I'm Canadian? Can I use the Live Inventory feature?
A: If you pull from American warehouses, then yes!
Q: Can you add a product to your store if the live inventory number is 0?
A: Yes, you can, but it is inadvisable to do so unless you have an internal stock of that product, or know that the product will be restocked by the time you fulfill.
Q: If I don't have access to a brand, can I use your software to buy that brand now that I can see the Live Inventory numbers?
A: No. Currently the Live Inventory numbers are purely informational. If you do not have access to buy Under Armour, then you can not order Under Armour through our software.
Q: Why don't all products have the Check Inventory button?
A: The Check Inventory button will only appear on products from brands/suppliers that provide a Live Inventory feed to OMG. However, brands/suppliers may not provide inventory counts for all of their products.
Now that you've learned how to use the new Live Inventory feature, there are a lot more new things in this update. Click here to learn how to use our new global orders page. Click here to learn how to use Gift Cards. Click here to learn how to integrate with Quickbooks Desktop.