Need to get a store up and running, but don't have the time or capacity to build it yourself? You're in luck! The OMG Service Team is filled with experts that can build your stores for you!
OMG Service page
On the Stores tab, click Request store.

This will lead to the OMG Service info page. All of the details regarding store building can be found here.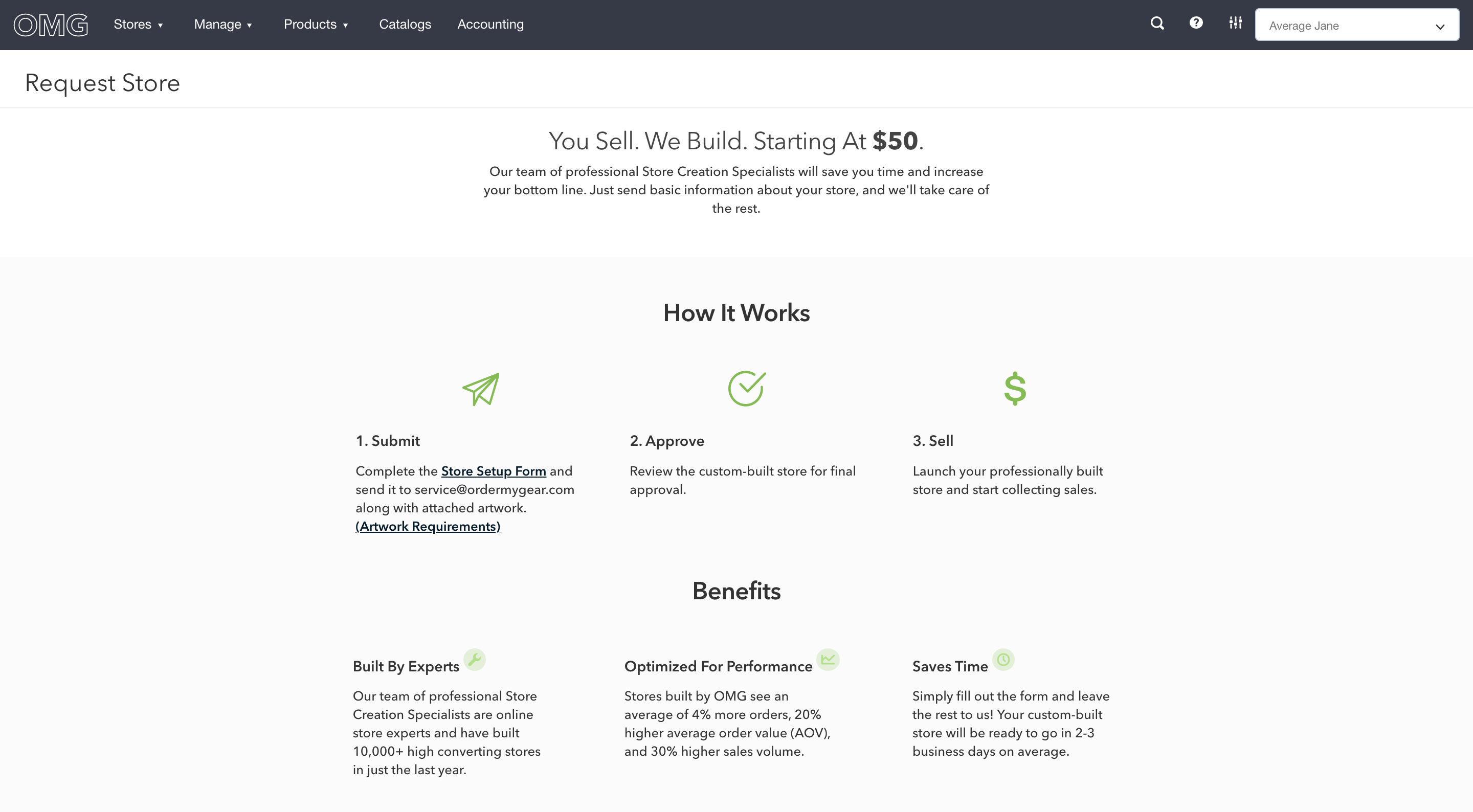 Pricing for Store Building
$50 per store includes up to:
- 20 products (add'l at $1/product)
- 20 mock-up images (add'l at $1/image)
By default, only one logo option is mocked up on products. Other logo options will be displayed but not mocked up. Additional logo mock-ups available upon request

The first change is free. Additional changes will incur a $10 change fee

Changing artwork on mock-up images will always incur a $10 change fee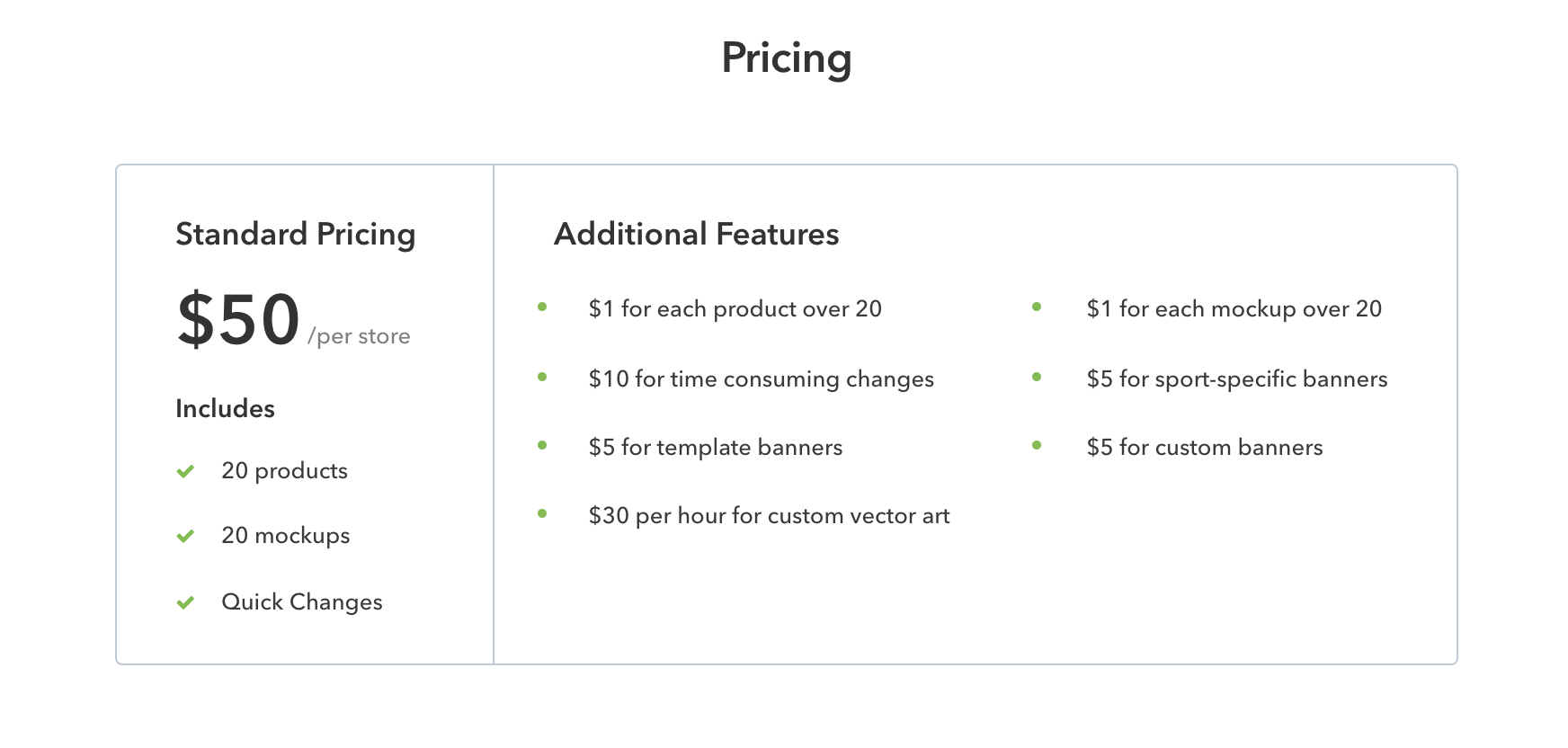 How to request a store
Download the Store Setup Form.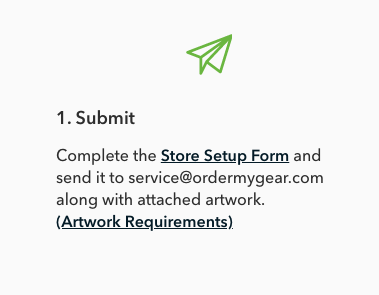 How to Fill out the Store Setup Form
The general store information should be completely filled out.

Be sure to include the Account Name, Organization/School, Activity/Sport, and Open/Close dates.
If Requested Direct Access URL is left blank, the field will auto-populate based on the info entered in the Organization/School and Activity/Sport fields.

Enter in any Fee amounts for the store. Most customers pass the OMG fee and credit card processing fees through to their customers in this area. Others bulk these fees into the Base Price of products.

Fees can be entered as a percentage or dollar amount.

If boxes are left blank, no fees will be added to the store.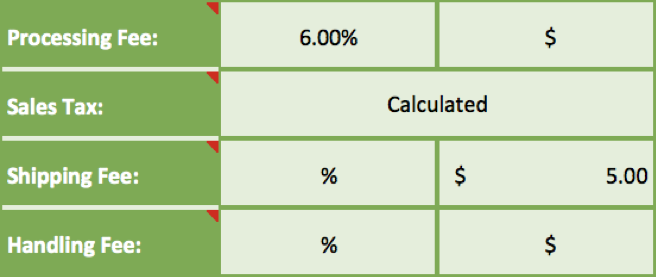 Enter in all the basic product information (Name, Manufacturer, Style Number).
Add the desired product Category for each item (examples: Apparel, Adult Apparel, Youth Apparel, Accessories, Headwear, Footwear, etc.).
Type "Yes" in the Required Product box if a product is mandatory for all customers to purchase. Leave blank if the product is not required.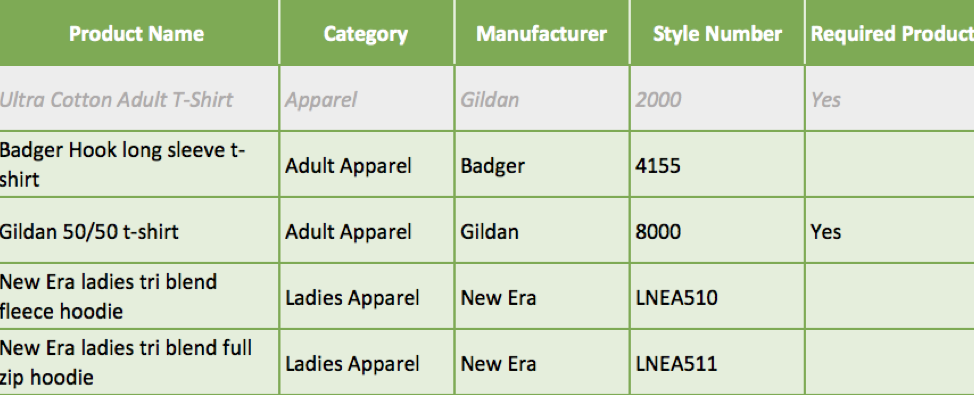 Manufacturer Suggested Retail Price (MSRP) and Cost of Goods Sold (COGS) are both optional fields.
To keep track of margins on the Margin Report, enter in a COGS Most customers put the cost of a blank garment + decoration within this field, or leave blank.
The Base Price is the price the customer will pay before fundraising or any other upcharges are added.

Fundraising reminder: OMG fees are taken out of the entire cart total, which is inclusive of Fundraising amounts. If your customer will expect a full $2.00 on an item, be sure to add in the additional OMG and CC processing fees.

The Final Customer Price is a combination of the Base Price and Fundraising amounts. This amount is automatically tallied in the spreadsheet.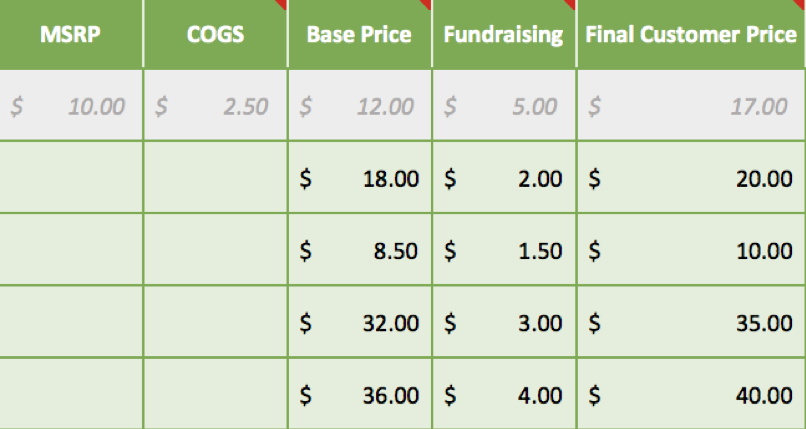 Enter Sizes, Size Upcharges, and all desired Color

Sizes: Include the all sizes to offer.

Size Upcharges: Always specify which upcharge goes with each increased size.

Color: Provide the manufacturer's color names.

Include the Logo File Name. This is especially important if products have different logos.
Include Logo Placement for each product.

Player Name and Player Number Fees can also be entered. If you'd rather the field be called something different like "Employee Name" feel free to add this in addition to the upcharge.

Leave these fields blank if no personalization will be offered.

Enter any Additional Product Notes.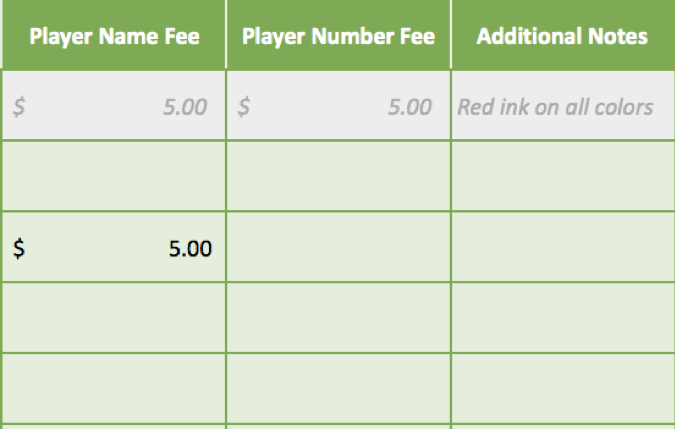 Pro Tip: Hover over any section with a red triangle to view a more thorough explanation!

Artwork
Design Requirements
✓Acceptable file formats: PNG or JPG only
✓Minimum size: 800px


✓

Background color: transparent, white, or garment color


✓

Transparent PNG images are required for all designs with transparent gradients, fades, distressing, or other complex alpha and for all embroidered logo sew-outs. Note: embroidered images must be in the correct colors; we do not swap colors on embroidery.
✘DO NOT SEND vector artwork
✘DO NOT SEND a photo of a logo UNLESS you wish to hire our design team to create a useable logo
✘DO NOT SEND image files embedded in an email, spreadsheet, Word doc, etc.
Filenames
Artwork filenames MUST match the filenames listed in the Store Request Form spreadsheet in the "Logo File Name" column. If requesting artwork that we have on file from a previous sale, please indicate the original OMG sale code where the art was used.
Design Services
Upon request, we provide custom design services including creation of vector artwork from a raster (JPG or PNG) file, logo name/logo drops, and color swaps. Please indicate that you wish to utilize our design services by email when sending your Store Request Form. Our fee for custom design work is $30/hr.
Examples
Send all design variations needed for different garment background colors

Designs with transparent gradients,

distressing, or complex alpha MUST be sent as a transparent PNG

Photos of embroidered sew-outs MUST be different garment background colors
Submitting Store Build Request
Once you've filled out all applicable fields, email the completed form and any logo files to service@ordermygear.com.

This email should include:

Completed Store setup form

Logo(s)

Account Name

Your First & Last name

An email containing the store's estimated completion date and the contact info of the store builder will be sent once the form has been received.

Average turnaround time is 2 business days, although this may increase during busier times of the year.
Pro Tip: Keep an eye on your email! Your store builder will reach out if questions arise and to let you know when your store is ready for approval.
The Store Setup Form is best viewed through Excel. However, Google Sheets can be used as an alternative method.
⬇Click below to download the form! ⬇