Do you work with larger customers to sell promotional hardgoods such as pens or mugs? OMG has a way to include a Minimum Quantity limit on products sold.
Minimum Quantities allows you to specify the lowest number of units of a certain product a consumer must purchase in order to add the product to their cart & checkout. The expectation is for minimums to primarily apply to hard goods, but can also be implemented for apparel if absolutely necessary. Minimums can be set for any product.
A few benefits of this feature will allow you to increase order size & value, guaranteed to meet supplier minimums, better control costs & profit margins, eliminate excess inventory, and give clear quantity expectations to the customer.
Set up Minimum Quantities
Go to edit your store

On the Products tab, click the item that needs to have minimum quantities

Enter the minimum quantity for each product on the General tab of the product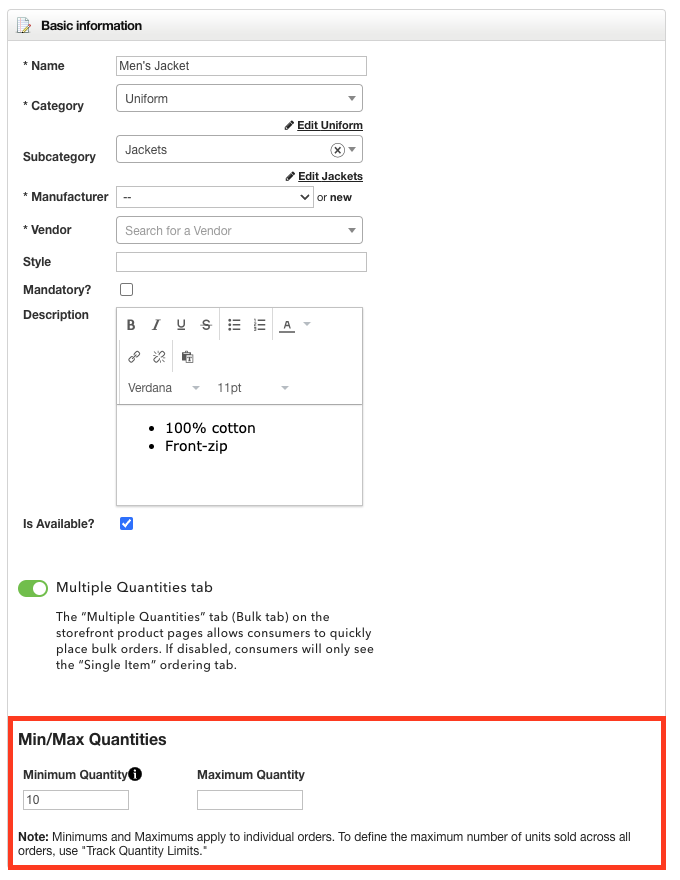 On the Storefront
The Minimum Quantity will display on the product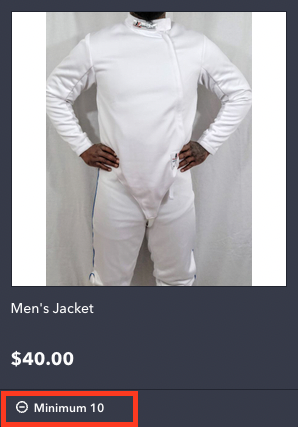 An item with a minimum quantity cannot be added to the shopping cart in a quantity less than the set minimum because the quantity cannot be adjusted to be lower than that value.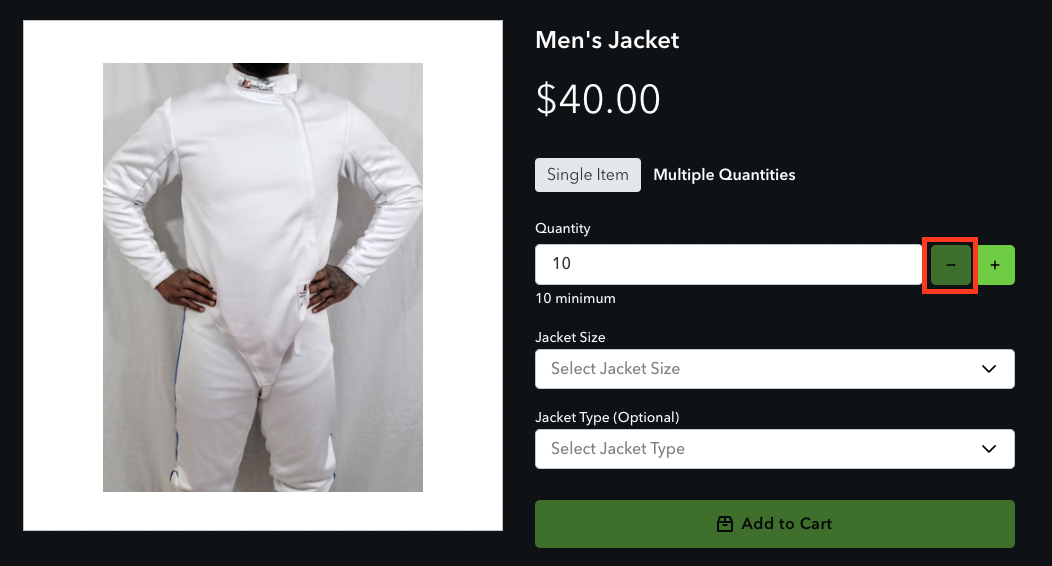 Once a product with a defined Minimum Quantities is added to the cart, consumers can add additional units beyond the minimum and remove units so long as the minimum is still met. The quantity cannot be adjusted below the stated minimum from the cart.
An error message will appear if the consumer enters a quantity outside the set minimum and maximum limits.

Consumers can place more than one order for an item with a minimum quantity restriction but will be required to meet that minimum for each order.
Frequently Asked Questions
If you enter a minimum quantity, can the maximum quantity field be left blank?
Yes. The two fields have no connection to each other.
Can you use coupons on products with a minimum quantity?
Coupons are for dollar amounts or percentage amounts that are applied to either the subtotal or grand total of a shopping cart. As such, coupons are not applied to products, so Minimum Quantities do not have an impact.
If a product also has a maximum quantity set, is the maximum quantity applied to a specific product variant or across all variants of a product? For example, if a pen has a maximum of 20, can a consumer order 20 of the red pen and 20 of the blue pen, or only 20 pens total?
The maximum quantity would apply to the total order. Both minimum and maximum are set at the order level, not the item level. In this case, the consumer can order a total of 20 pens, regardless of color.
If a product has a minimum quantity set, will the quantity field on the product's page auto-populate with the minimum number?
Yes. The quantity will auto-populate if there's a minimum quantity set and only one option.
If I enable Track Product Quantity Limits for a product and set it to Stop Selling when inventory reaches 0, what happens if either the minimum or maximum quantity exceeds what's available?
The end consumer will receive an error message and the transaction will not be allowed