Tired of your customers being confused when they see OMG branding on stores? Well, not anymore with the help of our White Label feature! This premium feature allows you to provide an on-brand experience for your customers and end consumers across all of your online stores. With OMG White Labeling, you have even more control to create fully branded online stores that elevate your brand and the online buying experience.
To name a few perks:
Create a consistent and cohesive experience

Eliminate confusion

Deliver premium experiences that enhance your brand
Activate Advanced Branding
Before using White Label you must first enable the Advanced Branding premium feature package. Activate this package under Dealer Settings > Premium Features. This will apply White Label to all of your stores. You'll also have access to the other features in the Advanced Branding package including Custom Domains.
Note: Premium feature subscriptions apply account-wide. Only Owner and Accountant roles can access the Premium Features page. If you are the Owner or Accountant of your business and cannot access the Premium Features page, email support@ordermygear.com.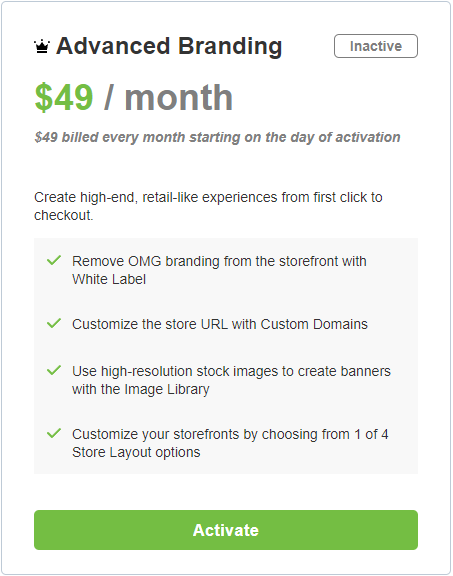 Click the "Activate" button. Next, select your preferred payment method and click "Activate" again to enable the Advanced Branding package. This will automatically apply White Label to all your stores. By activating the Advanced Branding package, the White Label feature will remove OMG branding from several places:
The OMG logo favicon will be replaced with a generic sale tag

"Powered by OrderMyGear" is removed from storefronts and Group Access Portal

"Powered by OrderMyGear" is removed from flyers

Sharing the store on social media no longer includes OMG verbiage
Good to go! The feature is live and all consumer-facing OMG branding will be removed or replaced with your logo.